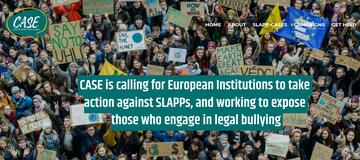 After the successful launch of the site attended by 150 participants from all over Europe, the activity of the coalition goes on at different levels.
OBCT joined the coalition at its birthday in Amsterdam in February 2020, together with dozens of ngos and human rights groups invited by Greenpeace.
Now, the site is ready to be a collector of cases and campaigns and tools.
We invite organizations and stakeholders to endorse our proposals to the European Commission and to the Council of Europe, adding their signature to the draft of a European directive and to the request of a recommendation by the Council of Europe.
All campaigns launched by the CASE are here .
Tags:
SLAPP